Must-Have Android Apps from Ricky Divjakovski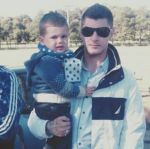 I am Ricky Divjakovski, i am 22 year old male from Sydney Australia. I write programs, scripts and applications to benefit the community and developers.
What is the app you developed the most popular? How do you think, what the reason for that?
I have multiple projects of high demand, the most popular being the Rickys Rom Kitchen.
The reason being most popular would be due to being able to modify any device at any aspect without knowing any programming. It turns standard users into full fledged ROM developers.
What is your current mobile phone? Is it the best choice for now or you dream about more powerful/suitable one?
My current mobile phones are the Galaxy S7 edge, Galaxy S4, ZTE blade blitz, Iphone 4 and Iphone 6. My favorite being the Galaxy S4 as the simplicity and flexibillity of the device still amazes me.
What apps do you use the most on your mobile device every day?
I recently just made a review about a few applications here on my Youtube channel that i teach programming on.
Top-5 of your favourite apps for Android which you'd recommend to install?
My most used application would have to be youtube. i manage my channel on it and check statistics frequently.
My top 5 apps:
Parallel lines - it gives you the abillity to use multiple social media accounts, its also a very popular way to hack server based games.
HootSuite - this application is a social media dashboard for all your accounts, it increases productivity dramatically.
Itube - This application is still by far the best application for caching youtube videos, and although its not on the playstore anymore my channel has a video that shows how to get it
DU Battery saver PRO - the most effective application i know of that saves battery life.
Hide My Root - the number 1 root hiding app i could find, using this app enables you to use NFC on applications that restrict access on rooted devices.
Не нашли ответ на свой вопрос? Возможно, вы найдете решение проблемы на нашем канале в Youtube! Здесь мы собрали небольшие, но эффективные инструкции. Смотрите и подписывайтесь на наш youtube-канал!