How to recover deleted photos on Android: best photo recovery solutions for phone and tablet users
We use mobile phones (Android / iOS), synchronizing them with PC, uploading digital content, as well as video files and photos to sd cards. We transfer our photos, videos and office documents – the choice is really wide. This comparative review of photo recovery software for Android will help readers who are trying to recover deleted files and troubleshoot issues such as damaged sd card or lost photos/pictures on Android.
In other words, we will recommend the best software solutions to recover photos and pictures on Android. These apps should be able to recognize sd cards and usb flash sticks. Ideally, each photo recovery software must perform several functions and comply with the following requirements:
Scan and search deleted photos of most widely used image formats such as JPG, GIF, PNG, TIFF, RAW, etc. on your mobile devices.
Support a variety of media and storage devices (HDD, SD card, Android phone memory, USB flash drive, digital camera, etc.).
Low price of a full professional version of a program.
A free trial version for testing photo recovery tools.
Connected to a computer, the memory card of a camera or mobile phone will not be indicated as a separate disk drive in File Explorer. Users need to disconnect sd card from the Android phone or tablet to connect to a PC via a card reader. Alternatively, you can use the built-in card reader of a notebook. In any case, you'd better recover pictures from cameras or mobile phones ASAP: there is a chance that a particular program or a user accidentally overwrites the deleted or corrupted files on the sd card. As a result you can completely lose deleted photos on Android.
1. PhotoRec – the best way to recover photos from Android
Photorec is a free app for Windows and Linux that can help to retrieve deleted photos on Android OS. It works on all desktop operating systems, allowing you to search for deleted images on your phone synchronized with PC. PhotoRec app includes the functional command line utility TestDisk (you can download it here) - an application to recover deleted hard drive partitions. PhotoRec consists of very basic photo recovery tools and advanced but user-friendly interface.
How to recover deleted photos on android using PhotoRec
In both versions of PhotoRec you
Select a disk or partition on sd card of a phone,
Press the Scan button,
Select the deleted or damaged photos from the Gallery on Android mobile device.
Choose a location for the restored files (preferably another drive on your computer and not the one containing d the lost photos or pictures).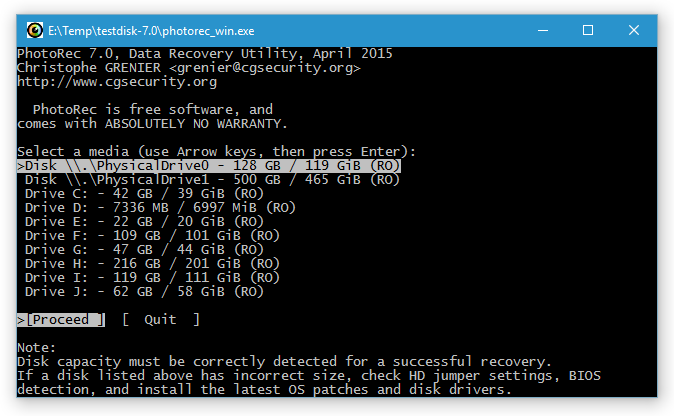 2. Recuva - definitely the best freeware program to recover photos
Recuva is a free android photo recovery app that you can download from developer's website www.piriform.com. The program works on Windows OS.
How to recover deleted photos from Android phone using Recuva program
If you need to restore files (photos in particular) from sd card or Android phone, follow the white rabbit :)
Open Recuva app on Windows
Connect your memory card to a computer
Select a required drive / phone sd card from the drop-down menu of the program
Start scanning by pressing the Scan button.
After scanning by Recuva, you'll get a list of deleted files on the card, including deleted or corrupted images.
Tip of the day: do not overwrite deleted files. You should note that deleted pictures can not be restored if the original location of the file has been overwritten by other data or operating system. It is quite possible that this can happen to you in the foreseeable future.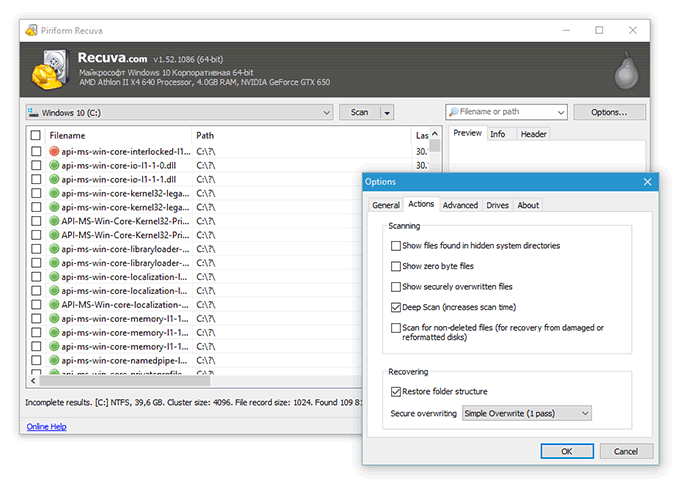 3. How to retrieve deleted photos from Android using Wondershare Dr Fone recovery app
Wondershare Dr Fone is a free photo recovery software for Android to recover deleted photos. You can download it for Windows XP and above, including Windows 10. Dr Fone Pro (which costs $ 50) allows you to undelete photos on android with no limits.
By the way, we mentioned Dr Fone in our review how to recover photos from Android, so don't hesitate to read it and use the app for recovering purposes.
How to recover deleted photos on android phone using Dr Fone
Likewise Recuva, you should connect a sd card by using an external card reader and run a scan or deep scan to display the deleted files on the storage media. The second option helps to format the card. Searching process may take longer than elsewhere, but the quality will be higher than during a quick scan in Recuva.
> Wondershare Dr Fone app is a totally universal application: it can restore photos, videos, contacts on Android.
Dr Fone photo recovery app allows you to find and recover deleted images from formatted drives. The app scans your phone and puts together an index of existing and deleted photos and catalogs (folders) from Android Gallery.
After phone memory scanning in Dr Fone you get full access to the desired photos, and then you can restore them with a certain degree of probability. You can preview the existing and deleted images using a Search Panel and easily find a particular erased photo on your phone.
Dr Fone is able to search for deleted photos using several approaches and parameters, including:
Full or partial filenames of photos and images
Image size
File creation date ( or copying to Android Gallery)
Last user access to the image time
Quick Preview enables you to look through deleted files. To use Quick Preview tool right click on a file and select the latter option for the photo. After that you'll be able to recover any deleted photos hands down.
4. How to restore photos in Stellar Photo Recovery
Stellar Phoenix Photo Recovery is another awesome program for image recovery, that works with OS X 10.5 and above, letting you recover deleted photos and video on Android phone. To get started, connect the memory card via card reader and open the app to read deleted data from the disk or a phone's sd card.
Speaking of advantages, Stellar Phoenix Mac Photo Recovery has an option "Recover Photo, Audio & Video". It is available on the left panel which displays the contents of the memory card. After that, you can run either quick or advanced scan.
Tip of the day: don't waste your time. Preview of deleted photos in Stellar software is possible and you can save you time with a vengeance!
5. DiskDigger – a little app goes a deep way
DiskDigger is a tiny (less than 1 Mb) but effective photo recovery app for Android. The program can help you to recover deleted photos on Android. Some image restoring functions are similar to those of Recuva and Dr Fone. It is remarkable that DiskDigger including Pro- and an Android mobile version.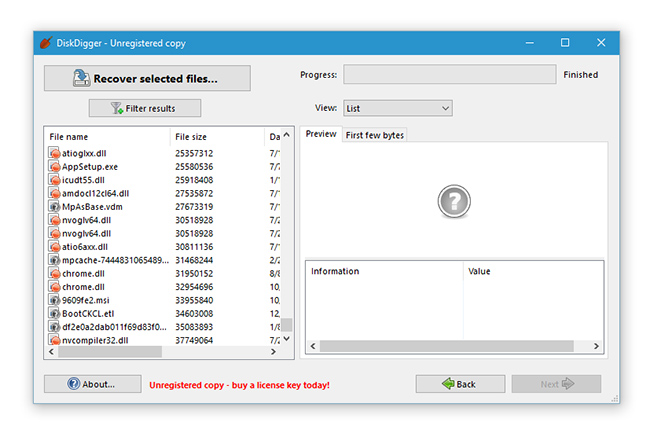 On top of other recovery features, DiskDigger Pro also
supports standard file systems (NTFS, exFAT, FAT12, FAT16, FAT32)
can recover all known file types of deleted photo
has flexible filter and sorting features
supports all actual versions of Windows OS (including Windows 7, 8 and 10)
syncs with Android and iOS mobile devices
How to retrieve deleted photos on Android using DiskDigger
Open DiskDigger app.
Go to a tab Select disk to scan and choose a desired logical drive / physical disk / sd memory card to search erased photos in a list. Click the Next button.
Select a partition to scan and a method you would like to use to search for photos: Dig Deep or Dig Deeper.
Softdroid advises: "dig deeper" to find deleted pictures on Android. A built-in scanner (so called Dig Deeper) literally "digs" deeper than other recovery tools (comparing with Dr Fone, for example).
Wait until DiskDigger scan your media for deleted pictures or photos. Brew a cup of good coffee and veg out

Click the Recover selected files button
Select the folder where the files should be saved. Don't save them on the same drive as the one you're recovering them from!
Summary. In this review I introduced you several android photo recovery apps and revealed some tricks and ways to retrieve deleted files on Android. I hope that this guide will help you in hard times if you lose your data. If it won't, look into the Android Data Recovery section: I have collected a lot of stuff for you.
Не нашли ответ на свой вопрос? Возможно, вы найдете решение проблемы на нашем канале в Youtube! Здесь мы собрали небольшие, но эффективные инструкции. Смотрите и подписывайтесь на наш youtube-канал!