Best apps to restore contacts on phone. Sim contacts recovery
Here is the list of several simple-to-use applications for phone contacts recovery on Android mobile devices:
It is assumed that a SIM card is a necessary item to restore contacts and phone numbers of your friends and colleagues from an Address Contacts app. If you lost such type of data, it makes sense to find a contacts backup file stored in an Android address book. To speed up this process we recommend to use a recover contacts from Android app, for example, Wondershare Data Recovery or Easeus MobiSaver (see the list above). The apps can be downloaded on PC for further sync with an Android tablet or phone.
Easeus MobiSaver for Android – phone contacts recovery for free
A Chinese app EaseUS MobiSaver can help to restore images, mp3 songs, videos, documents, archives and  other data stored on a  sd card on Android phone. Concerning Phone book contacts, Easeus MobiSaver allows to export recovered contacts in VCF, CSV or HTML formats, suitable enough for viewing on a PC or importing  deleted contacts back to the mobile phone.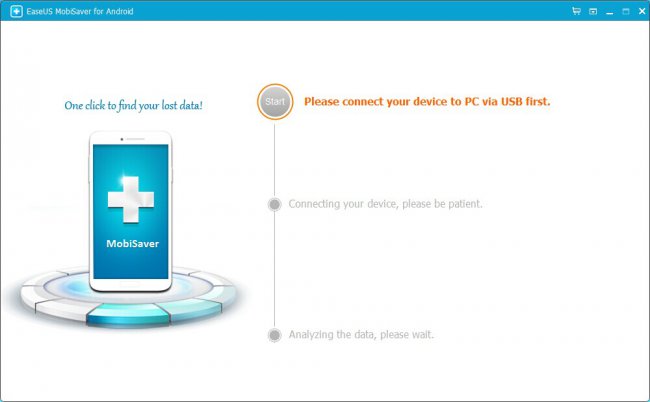 MobiSaver application developers claim that their program for recovery does not require special experience or reading technical articles on how to restore deleted contacts on Android. In fact, MobiSaver allows to restore deleted contacts on Android in a few clicks (PC synchronization> Disk selection> Scan and Search> Save deleted files, voila!).
The main MobiSaver features:
Recovering deleted and overwritten contacts on Android devices
"Read-only" access mode: there is no danger that user data will be overwritten by the app
Broad support for all versions of the Android OS and most of mobile devices, including Google, Samsung, HTC, LG, etc.
Quick contacts preview before saving them to a disk or phone memory
Full support of Android 6.0 Marshmallow
MobiSaver for free! By the way, hurry up to download MobiSaver on Softdroid, as  we have an offer for you. Generous Chinese people agreed to share free licenses of their contact recovery app. Just download it and tell us what you think of it!
Download MobiSaver for Android
Tenorshare Data Recovery: recover Android contacts easily
Tenorshare Data Recovery is a great application for Android contacts recovery which works well on tablets and smartphones based on Android 4 (KitKat)+.
You can recover photos, video and music files as well as any other accidentally deleted digital information, messages. Also you can recover deleted contact from your Address book. After synchronization with a PC (Windows / Mac), the application scans the device for deleted items and searches for Deleted folders and files from  sd card and internal memory. Just in one click you can get back lost contacts  and save them back to your phone.
Every bit counts. By the way, contacts data can be recovered from a SIM-card and SD card.
In addition to this, Data Recovery  performs comprehensive mobile phone diagnosis. The program checks the status of the data, copies it to a sd-card with high-accuracy (bit to bit).
Download Android Contacts Recovery app
Undelete – Samsung contacts recovery app
Fahrbot Undelete app is helpful for restoring files in the internal memory on Samsung. The program focuses on user data recovery of the following types:
Address book contacts on Samsung devices (Galaxy S3, S4, S5, S7..., Galaxy Note tablets)
Deleted Android messages and contacts
Audio, video, photos
Other data stored on Android OS.
And some scenarios in which Undeleter is useful:
Accidental contacts deletion on a Samsung mobile phone
Mishandling  a Samsung (Android) device
Android OS fatal error
Virus attack on Android
To start deleted contacts search, it's necessary to run Undeleter and specify memory location on Samsung (sd card / internal memory) where you want to search for contacts (Samsung or another Android device). The application displays a list of all deleted contacts with their original path.
Recover deleted contacts through Wondershare Dr Fone
Wondershare Dr Fone is a small giant among data recovery applications mentioned on the Softdroid Recovery. It also helps to recover contacts from Android phones and tablet devices. 
To restore contacts, you need to install Dr Fone on Windows (Mac OS X) and connect a phone to a PC. Next, you should enable debugging mode on Android and provide root access to a file system. This step is mandatory because Dr Fone can not search for deleted contacts on a phone with limited permissions.
On the next stage Dr Fone asks you to select deleted file types on Android. Just tap  Contacts – and you'll speed up search and save your time.
Then Dr Fone scans device memory and shows a Windows Explorer-like window. Here you see the results of searching. For a quick preview on Android you can use a Dr Fone sidebar displaying all relevant contacts information for each item. Select the ones to be restored on a phone sd card.
How to restore contacts stored on a SIM card?
First of all, I'd put the question another way: is it possible to restore a SIM card manually? Definitely not. As a rule, the replacement of a lost SIM card is free of charge. You need to write a statement about loss of sim-card and send a request to the mobile centre which provided you with a phone number.
Consequently, getting a new SIM card  on the hands, there is no use to search for the missing contacts. Unlike, say, in case of cloud sync, when contacts from Address book are automatically saved on a Google server as you enter your email address in Android OS parameters.
Of course, you can always find "caring" services that offer recovering of the information contained on a SIM card. However, this is nothing more than hype. The only possible way to restore a lost SIM card is to find the item itself. Just try to recall where you could drop it.
Google 'n Gmail Rescue Rangers
A list of contacts in the Android Address book can be easily restored but no later than after 30 days. Such method of contacts recovery will allow you to restore:
contacts after synchronization failure
erased Address book contacts
contacts after import and merge operations on Android.
How to restore contacts through Gmail directly to Android phone
Log in to the Gmail account you use on Android OS.
Click  Gmail icon at the top left corner, then go to Contacts section.
Click  Advanced button above the list of your contacts and choose Restore Contacts option
Select time  range to restore your contact list (eg, n minutes ago, n hours ago, etc.).
Click Restore. You'll see a text notification at the top of the screen informing you about the end of the contacts recovery process.
Хотите больше полезных советов? Смотрите и подписывайтесь на наш канал! Здесь я публикую лучшие советы для пользователей Андроид, Windows, iOS и Mac OS. Также вы можете задать мне любой вопрос, подписавшись на канал.