Best Free Flashlight Apps for Android. How to Install Torchlight on Mobile Phone
Why you need a flashlight and how it works on a phone
A flashlight, or torch, is a must to have on any mobile device, be it Android or iOS. Why? Here's an example: you are coming back late at night in a strange neighborhood, the streets are dark. If you don't have a torch, you risk getting a trauma.
It really helps when you have a phone with a mobile flashlight app installed as you can illuminate the road and reach the nearest public transport stop. Such an app is also useful in household or when you travel.
All the torch apps use your camera flash and phone screen, and some have additional features; they:
add flashlight widget on the Home Screen
install flashlight on incoming calls (along with vibration)
Flashlight app – a free pocket torch with auto lock
Flashlight for Android has several core features and settings:
it turns on/off via the On/Off button,
you can turn on/off the sound,
adjustable flash brightness.
The Flashlight app is off by default and doesn't drain your phone battery (while other Android torches have to be turned off manually when you turn on your phone). The torch won't get turned on if you press the button on your phone by incident and won't discharge your phone when you unintentionally press Power.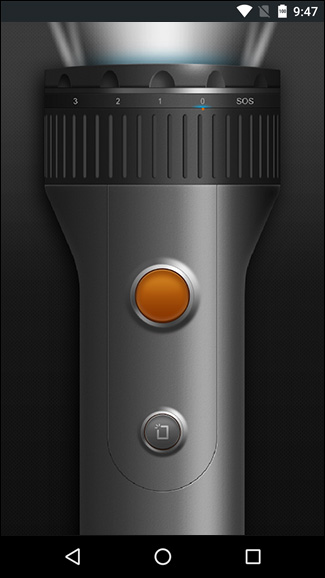 Flashlight has a smooth interface imitating a pocket torch. The only disadvantage is ads in the main window (although you hardly want to read them just to use the basic functions of the app).
You can download full version of the Flashlight for Android for free.
Flashlight 2 – flashlight app without ads
This software is a pretty simple torch with a single button designed to turn on flashlight on your phone and turn off the camera flash.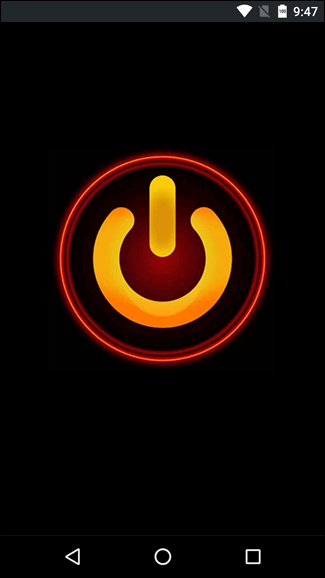 Alas, in the current version of this Flashlight you won't be able to adjust brightness, which can be inconvenient for a user who downloaded the app. There are also no other options, like setting LED on incoming calls and others. Yet, being that simple the app still has a weighty advantage: no ads and other marketing features.
The torch widget performs its functions without eating your mobile storage. To turn off the flashlight, you need to press a button on the Home Screen, same as to turn it on.
Download Flashlight for Android from us (in .apk) or from Google Play.
Download flashlight app for Android
Torch app: smooth brightness adjustment and other nice features
It's another must have Android app with not only adjustable flashlight brightness but other phone screen and flash settings as well.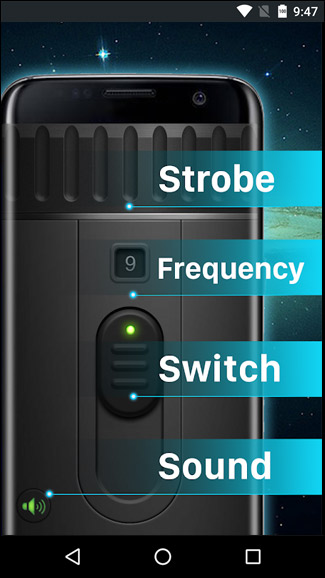 In addition, developers added functions which you won't find in other mobile flashlights; if you go to Settings, you'll find the following features:
Set up for your camera flash to turn on or off when the app is on
The flashlight turns off automatically when the time is out
A signal when the flashlight is activated
Flash on Call mode
Navigated from a widget on the Home Screen
Smooth brightness adjustment
Screen rotation when the flashlight is on
Use Rooted Mode: if Android OS blocks the developer, you can switch to Admin permissions on Android
Touch lock to avoid accidental pressing buttons when the flash is on
Although this torch's work is stable, the white screen is a bit confusing and it's not clear if the problem is caused by the device or app. However, it's just the screen color adjusted by the user.
This Torch app usually shows ads; the problem can be solved by getting the ad free Flashlight app available in Google Play for a small fee.
Super Bright – yet minimalist – LED Flashlight app
This flashlight is started from the widget. The shell of the Bright LED Flashlight is as simple as it could be.
When the app is on, the flash goes off as well, so the user not always can understand straight away which button is supposed to turn on/off the light, which to adjust brightness, etc. Fortunately, the settings menu is there and sound and timer can be set up using it.
Shortly, if you don't mind user experience, go for this app.
Color Flashlight app
Color Flashlight uses your camera flash and phone screen for illumination. Extremely helpful "in the field", in bad weather conditions, when you need to be noticeable from a distance. For this SOS code can be used.
Color Flashlight has a modest set of parameters to adjust the flashlight; its basic features are mainly preset.
With the help of Color Flashlight app you can:
turn on/off the torch pressing one button
get the text data displayed on the phone screen
set up your screensaver bright flickering
change your phone wallpaper
turn on the shutter sound effect of your camera
You can download Color Flashlight to your phone for free: an .apk file can be found in Google Play and following the link below.
Flashlight (LED Torch Light): saving battery, adjusting color, SOS mode
This free flashlight app for Android phones has been a newcomer in Play Store. Unlike most other flashlight apps, it has unique options which can seem hardly noticeable at first glance.
First of all, LED Torch Light monitors the battery power and if it drops down to the minimum of 5%, the smart torch will notify you with a number of flashes suggesting that you'd lower the brightness or turn off the flashlight. 
Due to the timer the flashlight turns off automatically (the time span is between 15 seconds and 30 minutes).
Note. As a matter of fact, the flash mustn't work for half an hour unless you intend to kill your phone.
Other features of LED Torch Light
Managing the torch using a widget
Color (brightness) adjustment
Several light modes to choose from
Able to send SOS message in Android
Screen color adjustment
Just Flashlight: super bright flashlight app for Android
The features responsible for the flash, such as screen brightness adjustment and others, are logically sectioned in Just Flashlight. Besides the SOS mode which is quite common in this kind of apps, there is also Strobe. A strobe light is rapidly flashing screen light or camera flash on a tablet.
It's weird that Just Flashlight starts really slowly (compared to others), and definitely doesn't work in its favor. No matter how simple or difficult to use it is, you don't want to wait for a few seconds before it turns on.
You can download Just Flashlight for Android from Google Play for free.
Color Flashlight from Happy Hollow Studio
Another torch app has appeared in Google Play Market just recently. This creation of Happy Hollow Studio can stay on your smartphone for a while due to its nice and well-designed interface.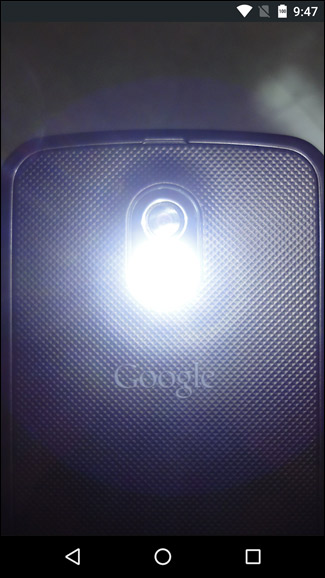 The analog button that turns on the flashlight is big, which makes it easy to press in the dark. All the operations in the app are performed smoothly and the animation is not annoying.
Two major lighting modes are flash light on your phone and screen torch. Flashlight allows adjusting color and brightness of the screen light. Consequently, this torchlight app can be used for mild illumination, say, for reading in a dark room.
Two features of this app will be of use for travelers and drivers: sending a Morse code (SOS mode) and compass.
Пожалуйста, оцените статью:
Не нашли ответ на свой вопрос? Возможно, вы найдете решение проблемы на нашем канале в Youtube! Здесь мы собрали небольшие, но эффективные инструкции. Смотрите и подписывайтесь на наш youtube-канал!