Primary tabs
What is the best Android flashlight app? Download flashlight for Android phone
A big review of the best flashlight apps for Android. Every app allows you to use your mobile phone as an effective and handy pocket flashlight if necessary.
The list of the mobile apps for Android consists of:
Android users use flashlight every day or at least very often. Just one example: you return home at night, without any flashlight, and outdoor lighting doesn't work… In such darkness it's very easy to bump your head, isn't it? But if you have Android phone with installed flashlight app on Android in your pocket, you can easily illuminate your way and successfully get to the bus stop (or subway, etc.) – and finally get home without any dangerous adventures.
In this review, consequently, we'll download the most popular Android flashlight apk-files from Google Play and carefully examine every flashlight app, literally sheding light how they work. Let's start, friends!
Flashlight – free app which looks like genuine flashlight
This Flashlight application for Android has a few main settings. You can enable or disable the sound, adjust the brightness and turn on the flashlight through the special 'on / off' swither. It is 'off' state by default therefore Flashlight app does not consume battery behind your back).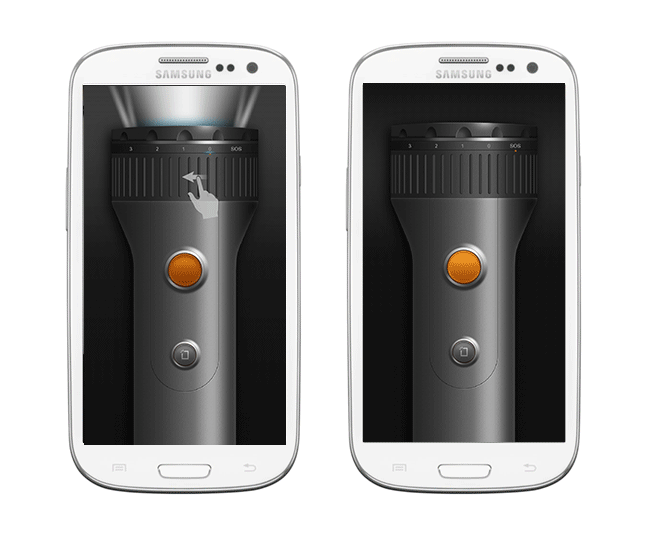 You can not accidentally turn on this app hitting the button on the Android phone, it won't damage your smartphone, the camera will not overheat even if it runs in your pocket and you click on hardware button.
The Flashlight app has quite a nice interface, which simulates a simple flashlight. There is the "Power" button, the brightness controller and the ring, with which intended to control power of a flash on a phone.
The only significant drawback of the Flashlight application – it contains nasty advertising, which is very strange for such simple mobile application. However, full version of Flashlight is available for free and you can download it from Google Play.
| | |
| --- | --- |
| App | Flashlight |
| Where to download flashlight for android | Download Flashlight |
| Developer | GO Launcher Dev Team |
| OS version | Android 2.2> |
| Downloads | 1,000,000 - 5,000,000 |
Flashlight # 2 - android-lantern without advertising
The next program with the same name (Flashlight) is tiny, if not to say primitive, flashlight app on Android phone, which consists of the only button for switching flashlight between on and off modes. So, Flashlight app looks extremely minimalistic.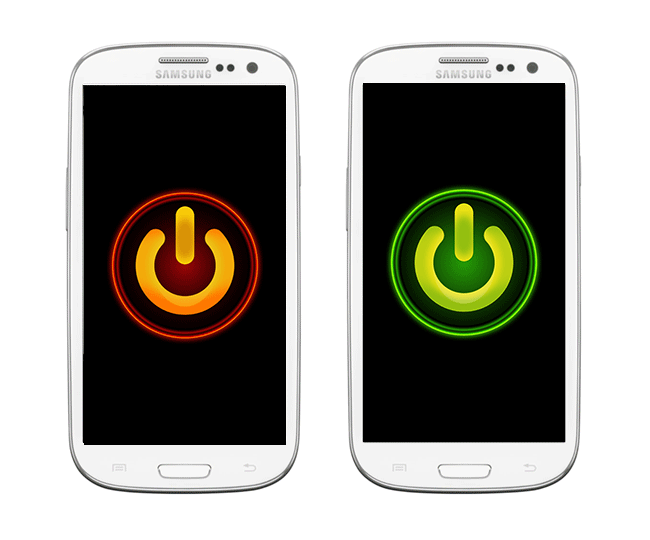 The only disadvantage of Flashlight is the absence of any adjustment. Unfortunately, brightness settings aren't available, which may upset any user. However, this Flashlight application has no advertising, and you can download Flashlight for free on an Android phone or tablet.
| | |
| --- | --- |
| App | Flashlight 2 |
| Developer | ArtLine |
| OS version | 2.3 > |
| Downloads | 500,000 - 1,000,000 |
Fonarik – Android flashlight app with advanced flexibility and smart lock
This is free and useful app for Android, and you can download it via the link placed below (look at the table with description). Flashlight app Fonarik make it possible to adjust power (brightness) level and other parameters related to the light and flashlight of your phone. Developers have built some interesting features which are missing in other mobile phone flashlights.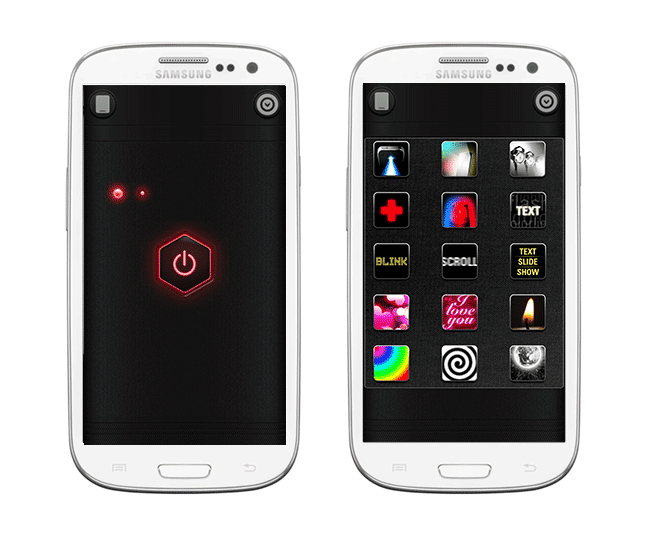 So, let's download Fonarik and go to the main settings of the app. There are some options you should check:
Light at startup: You can enable or disable the option to turn on the light when the application starts
Automatic power off the flashlight on your phone after a certain time limit
Sound: configure sound when you press a button on the torch
Screen orientation: convenient for controlling light on the phone
Root-mode: if the Android platform does not allow the developer to include some options in the flashlight, you can activate root access on Android.
Finally, it is possible to block the "Flashlight" app buttons to prevent accidental clicks on the phone, which may turn off lighting at the most important moment or to provoke an error. By the way, this flashlight works quite consistently and correctly on the mobile phone, although sometimes it seems that this is not true: you see white screen and can't understand if the problem of the device or the app itself. However, the fact that it's just a background screen that can be configure at your disposal, and you can choose screen background color using Flashlight options.
As usual, this Flashligh app shows advertisement, it also has pro version for Android. But free version of Flashlight is usable too as it provides rich and quality functionality. So it makes sense to pay for the app and download it from Google Play (furthermore, we recommend to do it!).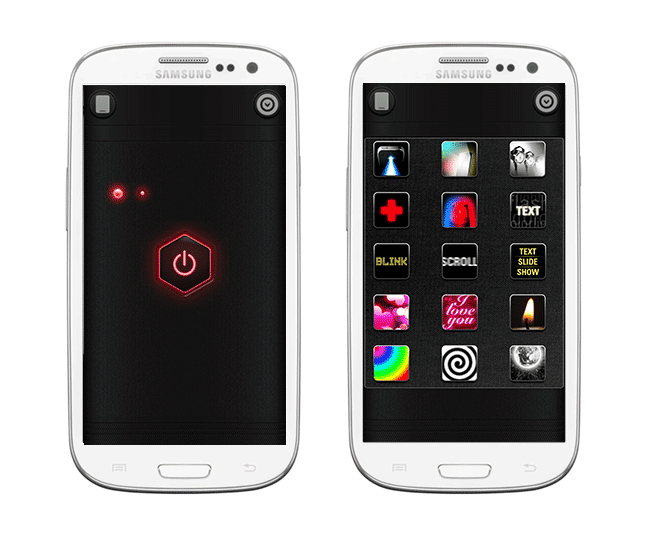 App
Flashlight
Link to download the flashlight on android phone
Developer
smallte.ch
OS version
Varies with device
Downloads
50,000,000 - 100,000,000
Bright Flashlight for Android: the worst Flashlight app in the world
Perhaps, this is the worst example of an Android application for lighting. Before you download it, think carefully about. The thing is that control and options not very handy in this app. As soon as you turn in the flashlight and flash is activated on your phone, you do not understand what to do on the next step. You can't find out where brightness and other options are located. Fortunately, settings menu is provided (even though it is difficult to find), so finally you can tune your flashlight – adjust the sound, timer, set the display settings.
User interface of the Bright Flashlight is pity and it is a kind miserable. The only positive side of this flashlight is funny sound when the application starts.
This Android app is useful if you don't know how to activate your flashlight on Android and you want to find solution as soon as possible and quality is not so important in this situation.
Sane Flashlight: opensource flashlight app for android phone
Sane Flashlight has a lot of cons which are missing in other Android apps for flashlight. First of all, I mean freedom from any advertisement. Just download Sane Flashlight from Google Play, install apk and learn permissions (they are minimal) and then you can use app when it's needed.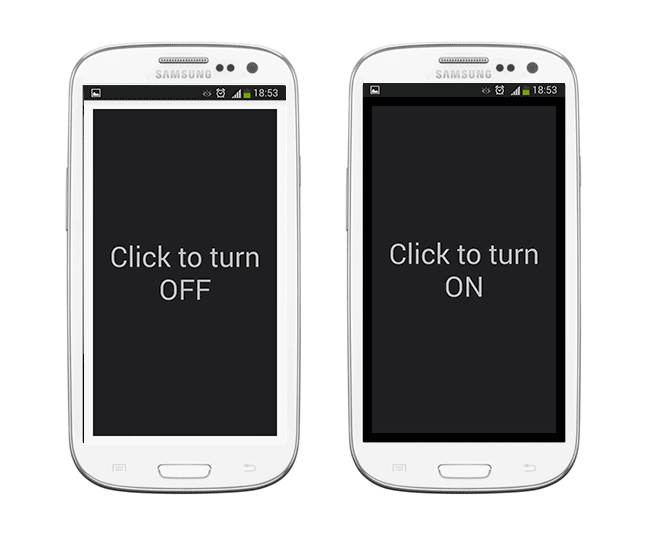 If you are Android programmer, Sane Flashlight is a useful example of opensource Flashlight for Android, and you can learn its code parts etc. The apps developer for Android encourages such a great deals.
| | |
| --- | --- |
| App | Sane Flashlight |
| Developer | Deekshith Allamaneni |
| OS version | Varies with device |
| Downloads | 14,000,000 - 53,000,000 |
Color Flashlight: 50 shadows of Android flashlight app
Another one example of free Flashligh for Android which shows you how to use phone flash and screen usefully. However there are not so much interesting settings and options you can use – for example, a turn on / off button is the most exciting thing here.
All power of Color Flashlight is in presets (quick settings) which allows you to use phone flash for signaling, for example: SOS. Also the app is useful if you want to display some text or background on the screen and show it another people on far distance. As it was said below, this is the most interesting feature of Color Flashlight. And it's pleasure to inform you that you can download flashlight app for android. We can say with sertain confidence: this is one of the best free flashlight app for Android phone. And it's free!
| | |
| --- | --- |
| App | Color Flashlight |
| Developer | Notes |
| OS version | Varies with device |
| Downloads | 10,000,000 - 50,000,000 |
Flashlight - LED Torch Light app: flexible settings, SOS mode
This flashlight is fairly new in Play Market. The main features are not so remarkable for such kind of apps, but anyway they are useful.
For example, if battery level is low (less than 5%), the smart flashlight will alert you about discharge by flash signals. So this option indicates user of flashlight app and saves from unfortunate situations.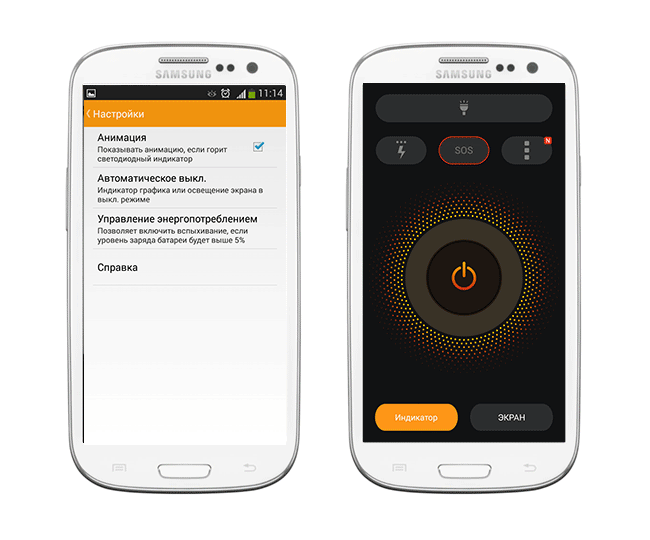 Timer feature is supported (from 15 seconds to 30 minutes). You should understand that flash can't work half of hour, even though you have a good battery as a power source.
Finally, Flashlight LED Torch Light gives you opportunity to control phone flashlight brightness and flash mode. There is also SOS mode and screen coluor settings.
| | |
| --- | --- |
| App | Flashlight - LED Torch Light |
| Developer | ZenUI, ASUS Computer Inc.  |
| OS version | Android 4.2 > |
| Downloads | 12,000,000 - 55,000,000 |
Just Flashlight: Android flashlight widget as the simplest solution for mobile
As you understand, there are not so much original names and distinction between thousands Android flashlights. So... Just Flashlight is one of the typical names for a flashlight app.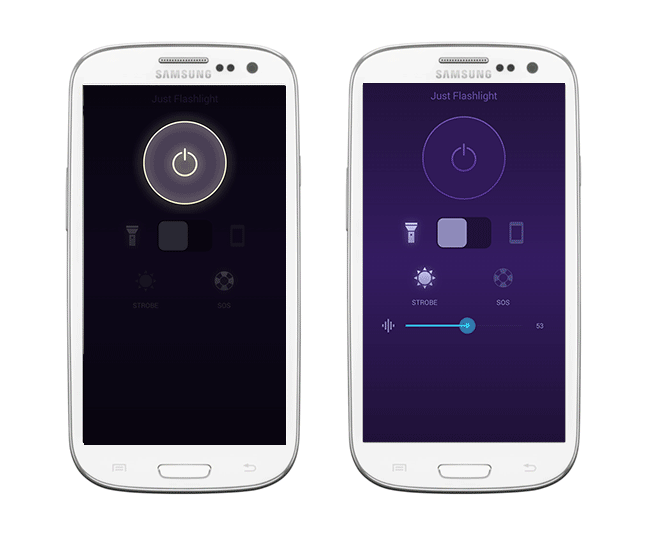 Anyway, let's check the most advanced features of this app which is the last in our big Flashlights review. You can find here brightness and other phone flash settings which are the most priority for a flashlight app.The most exciting feature is Strobe – blink flashlight you can use for SOS-signals etc.
Slow loading is one of the application drawbacks. And it's strange for such simple (even primitive!) application. An user can't wait for 3 or 5 seconds until a flashlight is turn on. But we hope these drawbacks will be eliminated on the next versions of Just Flashlight.
| | |
| --- | --- |
| App | Just Flashlight |
| Developer | LLC "JustMobi" Tools  |
| OS version | Android 4.0.3  > |
| Downloads | 110,000 - 520,000 |
How to turn on flashlight on/off on android OS
All mobile applications that replace the flashlight by software method can be harmful to your phone or tablet - so try use phone camera properly and carefully. The best way to to turn on flashlight on android is to use your phone flashlight strictly limited time and / or when it is absolutely necessary.
Firstly, such flashlight applications use phone flash very intensively and may discharge your mobile phone extremely quickly: flash, in fact, is not designed for intensive and long work as a "lighting device" on Android. The basic toolbox of a phone camera is to take pictures and video.
Secondly, without exception, all free flashlight apps, downloaded from Google Play, heated mobile Android device and thus may really destroy your phone or tablet (indeed, how often do you use a flashlight in your everyday life?) .
However, do not worry: those competitors, which we've numbered in the review, are very flexible and extremely easy to work with, and be sure: they are totally safe Android flashlight apps. In any case, download a flashlight on your Android, test at least one of the participants – and leave the flashlight app on the Android phone for a long time.
Пожалуйста, оцените статью:
Не нашли ответ на свой вопрос? Возможно, вы найдете решение проблемы на нашем канале в Youtube! Здесь мы собрали небольшие, но эффективные инструкции. Смотрите и подписывайтесь на наш youtube-канал!